Click the headings...
You can save time (yours and ours) by submitting your badge photo when you register. There are a number of guidelines we ask you to follow:
Your Photo
If you have a favourite photo you'd like us to use on your Esprit ID badge you can upload it right on this form. There are some requirements. It must:
NOT USE PHOTOSHOP, SNAPCHAT FILTERS etc. to alter your appearance
be clear and sharp, with reasonable color quality
be in Portrait format (taller than it is wide)
at least 400 pixels in width, and more than that in height
be recent
show head and shoulders only, showing your face clearly (no full-length or 3/4 length shots)
show only yourself (no group shots)
show you in the gender in which you'll present yourself at Esprit
be less than 1MB in size
be in JPG, TIFF or PNG format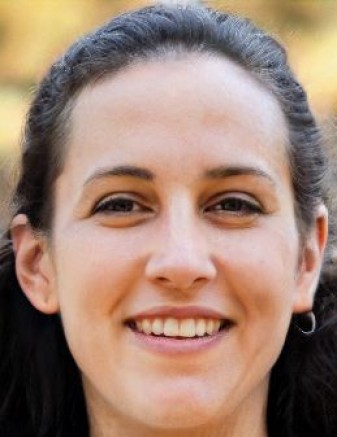 This image meets all the requirements, except that it's shown at half size.
You can also ask us to use your latest Esprit Yearbook portrait. (We can't go back to older years).
If you don't have a suitable picture, don't worry. We can take one when you check in at Esprit.
Refunds will be made only upon emailed or written request.
Requests emailed or postmarked on or before 2nd April, 2023 are eligible for a full refund*. Requests emailed or postmarked between 3rd April, 2023 and 12th May, 2023 inclusive are eligible for a 50% refund*. If you cancel after 12th May, 2023, Esprit will credit the lesser of the current price of the full meal package or actual payment against the cost of attendance at Esprit 2024.
Extenuating circumstances will be considered at Esprit's sole discretion.
*Please note: If payment was made via PayPal, the refund will be reduced by any amount not returned to Esprit by PayPal.
Esprit is NOT intended for youth or juveniles, nor is it designed for you. If you're under 21 (Washington state's age of majority) we can't accept you at Esprit, unless you're attending with a parent or guardian who is also registered.
Sign up to be a part of Esprit! There are many interesting tasks, some large and some small, that we would dearly love some help with. Please consider joining us as a volunteer for a few hours. There's no experience necessary, just a desire to pitch in and help put on this wonderful event! There's a convenient place on your registration form for you to sign up.
Most people won't need to mail in paperwork any more! If you're paying by PayPal or in person, there's no need to mail in a copy of your confirmation email. We do recommend you print it anyway, keep it safe and bring it with you to Esprit as it contains important information and will also simplify your checkin when you arrive.
Please note that if you're mailing in your payment (check or money order) then you MUST still print and enclose your confirmation email.
You can now specify special dietary requirements (vegetarian, gluten-free etc.) when you register! This will make it easier on the kitchen staff who can then prepare and serve your meals along with everyone else's.

more info
You can buy extra meals when you register! This is very useful for vendors and presenters. You may also be able to preorder and prepay for other items too - check the new "Add-Ons" section in your registration form.
Easier-to-use registration forms! You can now register yourself, your SO and and additional family member all on the same form. Businesses and Presenters can register themselves and provide their presentation or business information all on one form.
You can pay online using PayPal! When you submit your registration form you'll see the option to do so.